Key Cutting & Duplication
At Sure Lock & Key in St. Louis, we offer multiple key cutting and key duplication solutions at the most competitive prices. Whether you need keys cut or duplicated for residential, commercial, automotive or high-security applications, our highly trained locksmith technicians have the knowledge, experience and tools to provide fast key cutting and duplication services for almost any type of lock. All of our cut and duplicate keys are created with a variety of high-quality key blanks milled to manufacturer specifications and exact cut patterns of your original key so that they slide in and out of locks with ease.
Key Duplication
Key Duplication is a process that requires an available "working key" to be copied. For example, in the incident you may need a spare key. The working key should be capable of operating the intended lock in order for the duplicated key to be successful. For this process, we select an appropriate blank key, which is then positioned in our key cutting machine to re-create the same specific cut patterns of the working key.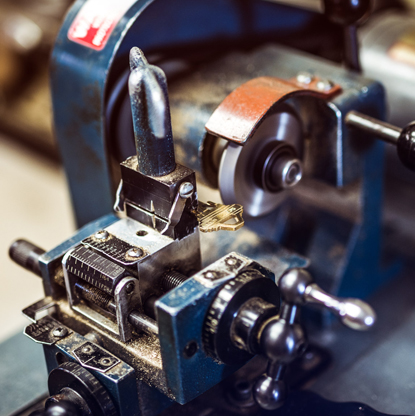 Key Cutting
Key cutting is the process used to create a new key by code number for when a working key is unavailable. A code is usually supplied with the original key or lock by the manufacturer when purchased. We then use this unique code number to identify the specific pattern of cuts required on a key to operate the lock it is used for.
Application Types
Select the application options below to learn more about the key cutting and key duplication services we provide at Sure Lock & Key.
---
Residential
Whether you've lost or damaged your household key or need to share a set of keys to your residence with several people, our locksmiths at Sure Lock & Key can help. We provide a comprehensive selection of key blanks to cut and duplicate nearly any type of residential key, so you can enjoy the convenience of owning multiple keys to your household.
Commercial
At Sure Lock & Key, we offer a range of commercial key cutting and duplication solutions for a variety of industries including hospitals, schools, office buildings, factories, warehouses, commercial store fronts, property managers and more! Our technicians are fully trained and equipped to duplicate keys that will function properly and securely.
Automotive
At Sure Lock & Key, our automotive locksmith technicians have the training, expertise and tools to quickly and accurately duplicate car keys for a variety of key types, including traditional car keys, smart keys, transponder keys and chip keys.
We offer a large selection of car and ignition key blanks for virtually any vehicle.
Furniture
Sure Lock & Key can cut replacement keys to code or duplicate keys for a variety office furniture items – including desks, drawers, filling cabinets, safes, and more – from leading manufacturers. Simply provide the code marked on the item lock and we can provide a solution for you.
Restricted Keyway Systems
Let Sure Lock and Key help to ensure you are in control of the access to your building. With our restricted keyway systems – designed to prevent unauthorized duplication of keys – our skilled technicians are the only locksmiths able to cut and duplicate your building keys, so you can rest assured that your building properties keys are safe and secure. Learn more.
Call us at today at 314-822-7300 or fill out our Contact Us form for more information about key cutting and duplication.