Commercial Safes

in St. Louis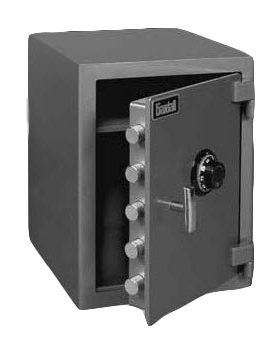 Sure Lock & Key has been providing commercial safes to St. Louis business owners for over 50 years. As a St. Louis business, we understand that the last thing any business owner wants to worry about is theft. Because we are also our primary audience for commercial safes, we pride ourselves on providing only the highest quality in safe brands for a business' most important possessions.
Our comprehensive line of commercial safes provides St. Louis business owners with a product that fits each of their unique needs. From cash safes to larger, fireproof safes, Sure Lock & Key is your one-stop-shop for this type of security, among many other crucial commercial security elements.
View All Commercial Security Products & Services
Brands We Carry
Our store in Kirkwood showcases the complete line of AMSEC and Gardall safes we sell and install where you'll be able to browse our collection and pick a safe that works for you.
American Security

Among the commercial-grade products we sell, AMSEC provides us with their line of advanced burglary & fire safes. Their top-rated products provide both burglary & fire protection and come with a lifetime warranty. Our line of AMSEC safes are built with:
Double-wall steel construction
Up to a 2-hour fire label able to withstand temperatures of up to 1850°F
Able to withstand drops of up to 30 feet
Up to 3 1/2" thick doors with additional 5/8" thick front wall for added pry resistance
Gardall

Sure Lock & Key is proud to provide our customers with Gardall's high-security line of fire safes. These safes come with a lifetime replacement warranty and are built with only the highest quality locks, bolts and anti-pry designs. Our Gardall safes come with:
Up to 4 1/2" thick doors
Up to 2 1/2" thick safe walls
Furnace tested, up to a 2-hour fire label, safe in temperatures up to 1850°F
Up to 5 active bolts, locking in 3 different directions for advanced anti-theft protection
Advanced Security Features
Our commercial safes are outfitted with added security mechanisms such as commercial grade keypads and dial locks and are easily integrated into your business' current security solutions. Perfect for businesses, government buildings, financial institutions, and healthcare buildings, these safes will effectively secure cash and other important documents, giving you and your team the reassurance that your commodities are safe from burglary and internal theft.
UL Listed
All safes sold by Sure Lock & Key are listed by Underwriters Laboratories (UL), an organization that assesses and confirms that products meet industry standards, to guarantee the security of your new commercial safe from fire and burglary.
Visit our Kirkwood store to view our full selection of UL listed commercial safes. Sure Lock & Key is a full-service locksmith company in St. Louis that sells, installs and services commercial safes. If you are interested in one of our safes for your business, contact us or call us today at 314.822.7300!