Commercial Door Hardware
Sure Lock and Key has been proving, installing and servicing commercial lock products in St. Louis for over 50 years. Our centrally located store has a large showroom of the top commercial lock products and systems. Stop by our store or call our service number to talk with a Sure Lock and Key locksmith about your commercial lock needs.
Commercial locksmith products we provide to the St. Louis community include:
Door Closers
LCN Door Closer
We carry an array of commercial door closers that can serve a wide range of capabilities including door actions, weight capacity, and level of usage. Our locksmiths can assist you in choosing the right commercial door closer to meet your business needs.
Restricted Locks
The security of your business is important to us. At Sure Lock and Key, our restricted keys are cut uniquely by our skilled locksmiths in our store, so you can rest easy that no unauthorized key duplication can take place.
Lever Sets
We stock a variety of commercial door lever sets that are designed and built to last. Available in different styles, sizes, designs and finishes, visit our showroom to find the right lever set for your application.
Magnetic Locks
Magnetic locks are designed to provide increased security and to prevent unauthorized security. Our magnetic locks are available in a range of holding forces and are suitable for a variety of door types.
Card Access
Our card access locks can be installed for numerous applications including hotels, banks, and high security rooms in office buildings. Sure Lock and Key locksmiths can provide, install and service any of our card access systems.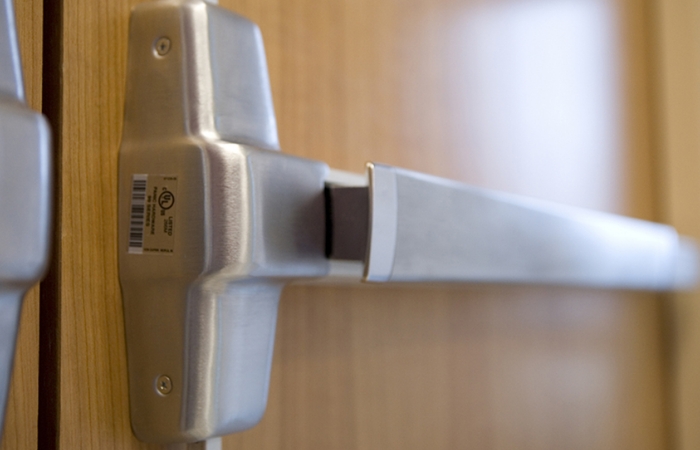 Locknetics Panic Bar
Panic Bars
Panic or push bars are designed to quickly open doors in emergency situations, allowing for your occupants to quickly and safely exit the building. Sure Lock and Key locksmiths will work with you to choose the right products to meet safety and use requirements for your applications.
Commercial Safes
Sure Lock and Key has a large selection of commercial safes to protect important documents and materials for your business. We have an assortment of commercial sizes in stock and our locksmiths will install and service any of the safes in our inventory.